Learning to fly a glider is an exciting and satisfying experience. As a member of the Gliding Federation of Australia, Beverley Soaring Society provides a very comprehensive, structured, and safe program of flying training.
There are two great ways you can learn to fly at Beverley. You can:
Learn to fly with our instructors on any weekend at your own pace (we operate most Fridays, Saturdays & Sundays), or

Attend one of our regular Ab-Initio or "Learn to Fly" courses (see below)
Whichever way you choose to learn, our flying program covers pre-solo training, post-solo development, and cross-country coaching.
Please contact us for more information.
About Ab-Initio Courses
Our Ab-Initio courses are designed to give the beginner concentrated instruction running over a one week period or two consecutive weekends including at least one Friday. Other weekday training is sometimes available in association with cross country training weeks held during the soaring season.
Basic accommodation (at no charge) is available on the airfield or there are hotels and B&B options available in the nearby Beverley township.
Subject to demand, the club will run seven-day intensive Ab-Initio training courses which are a great way for newcomers to gliding to quickly progress your flying skills. The courses cover both the theory and practical aspects of gliding and are suited to student pilots with any level of flying experience. For more information and to register your interest in our next course, email us at bevsoar@beverley-soaring.org.au or call Roger on 0407 385 361.
Alternatively, you can start training any weekend (Friday – Sunday) as our instructors are always available. Call Roger on 0407 385 361 for more information.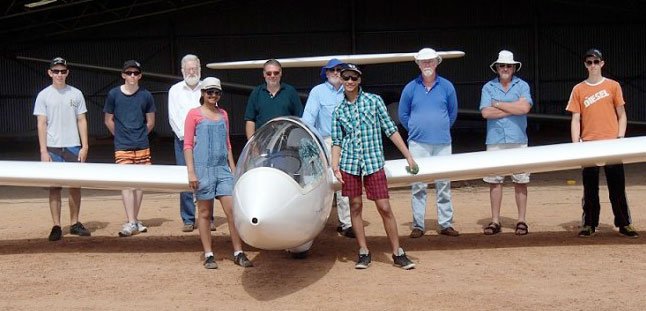 Instructors and students at an Ab-Initio Course
Child Safety
To comply with Gliding Federation of Australia (GFA) policy, all instructors who interact with minors (under 18 year olds) hold a Western Australian Working with Children card. These must be renewed periodically with the relevant state government department.
Learn More About the Sport of Gliding
The Gliding Federation of Australia web site explains how gliders fly, about learning to fly and where this exciting sport can take you.